How do to describe Austin FC this year in one video.
Yeah, that's about right. Wednesday's U.S. Open Cup loss stung a lot. Austin FC had a great opportunity to make a deep run in the country's oldest competition but played with less life than Bernie Lomax. Which has once again given rise to the #wolffout movement and I gotta be honest, they have a point.
"But Uncle Tony P., Austin FC is 3-2-2 in its last 7 games across all competitions. It can't be that bad. We're on the right trajectory. Plus, we're getting healthy."
……..OR ARE WE?!
Despite the Open Cup sadness, Austin FC is in the playoff hunt through 13 games in MLS play and faces the Dynamo for the 2nd time this year on Saturday, though it will be the first to count for Copa Tejas. Houston and Frisco played to a 1-1 draw last week, so Austin has an early opportunity to take the lead in the Copa race. It would make us all feel slightly better, so I'm begging you Verde boys, come away with a win this weekend.
As for the rest of MLS:
MLS Sickos Game of the Week
Club de Foot Montreal vs Inter Miami CF – 6:30 p.m. Saturday (Apple TV)
These two are mirror images. Each is below the playoff line with 15 points. Each has lost two straight league games. And each won in the midweek to advance in their respective Domestic Cup competitions. It's wild to say this, but this is a battle between clubs still very much alive for CCL berth's next year. God bless CONCACAF.
The Side: Don't care, just want them to win the Canadian Cup and U.S. Open Cup now for the LOLz.
6:30 p.m. Block (Apple TV)
New England Revolution vs Chicago Fire
NYCFC vs Philadelphia Union
Orlando City vs Atlanta United
Toronto FC vs D.C. United

There's not a "must watch" game in this block. NYCFC/Philly and Orlando/Atlanta are the two best matchups of the bunch, but no one is going to blame you if you decide on a nice dinner before the Austin FC match starts. That's my plan anyway.
7:30 p.m. Block (Apple TV)
Minnesota United FC vs Real Salt Lake
St. Louis CITY vs Vancouver Whitecaps
As crazy as it sounds, it's conceivable that Austin FC could finish the weekend as high as 5th in the West. Step one of that is, of course, beating Houston. But if that is coupled with losses by Minnesota, Vancouver, San Jose, and Portland, Verde would vault to a comfortable spot. However, I'm a petty bastard and don't want nice things for Jared Stroud, so settling for 7th this week is fine if it means CITY loses.
The Sides: RSL & Vancouver
8:30 p.m. Block (Apple TV)
Colorado Rapids vs FC Cincinnati
FC Cincinnati is on a tear and should win this game. But there are two things I can't shake from my mind:
Colorado is decent at home when you least expect it, having already drawn LAFC and CITY in the thin air.
The Rapids might come into this one a little pissed after losing back-to-back matches to their biggest rival in the same week (MLS & U.S. Open Cup)
The odds are that Cincy keeps up its amazing start and that's a good thing for Austin as we want breathing room below us, but don't be surprised if this game gets a little weird.
The Side: Knifey-Lions in a knife fight
9:30 p.m. Block (Apple TV)
Seattle Sounders vs New York Red Bulls
L.A. Galaxy vs FC Charlotte
San Jose Earthquakes vs FC Dallas
From an Austin perspective, there's only one game here that matters. I mentioned settling for 7th this week is fine earlier, and this is the other part of that equation. Frisco is playing its second straight "Both of these teams just go straight to hell" match as they travel to Silicon Valley to face a pretty solid San Jose club. I just want a combined 4 red cards and for everyone to go home pissed off. Is that too much to ask?
The Side: I'm cheering for the ref.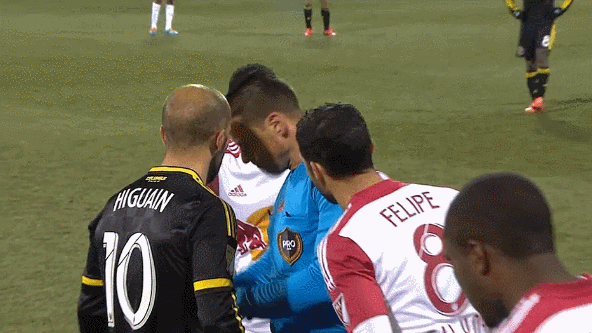 Sunday Funday Doubleheader (Apple TV – Free, FOX, FS1)
Sporting Kansas City vs Portland Timbers
Nashville SC vs Columbus Crew
Sporting KC still aren't particularly good, but this week they host a Portland team with just one road win this year. The Timbers are even with Austin on points (though they have played one more game), making this decision easy.
The Side: #VermesIn